Steam Replay 2022: You can access Steam Replay 2022 via PC or mobile device. You can also share Steam Replay 2022 via social media accounts, let's try to make and share your activities while playing games via Steam throughout 2022.
Console gamers, especially PS4 and PS5 console users, may have shared the games they have played throughout 2022 through the 2022 Wrap-Up feature that was released by Sony in early December. The good news is that PC gamers can also enjoy a similar feature released by Steam. Recently, Steam, which is a million gamers platform, announced Steam Replay 2022. What is Steam Replay 2022? Similar to Spotify Wrapped or 2022 Wrap-Up, Steam Replay 2022 allows users to share gaming activity throughout 2022.
Through Steam Replay 2022, you can see a list of the top game titles that are often played this year, complete with other interesting information related to your activities while playing games via Steam. You can also share Steam Replay 2022 on social media because photos or pictures can be downloaded. Want to know your activities while playing games throughout 2022 on Steam? Let's find out how to make Steam Replay 2022 by following the steps below.
How to make Steam Replay 2022: Steam Replay 2022 Open the Steam Replay 2022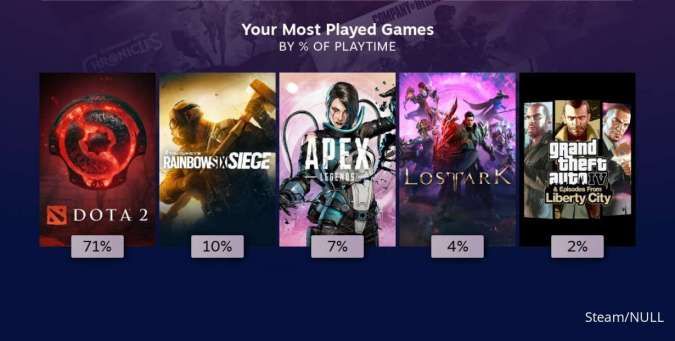 link below: https://store.steampowered.com/replay/
Login using your Steam account by entering your username and password.
After logging in, the Steam Replay 2022 page appears.
To share Steam Replay 2022 or download the image, please click the Share button .
There are several Steam Replay 2022 image options that you can download according to the appropriate size on social media, for example Facebook, Instagram, Twitter or even TikTok.
Easy, right? Now is the time to share the top games that you have played through the Steam Replay 2022 feature to your social media accounts. Finally, good luck creating Steam Replay 2022 and sharing the top titles you've played so far this year.