In theaters since Wednesday, "The Woman King" looks back on an unknown part of African history. Alongside Viola Davis, the public discovers a promising young actress: Thuso Mbedu.
Forgotten by the history books, the Agojié finally have the right to their own film. Directed by Gina Prince-Bythewood ,  The Woman King looks back on the journey of these Amazons who made up one of the very first female armies in history. They practiced in the 19th century in West Africa, within the Kingdom of Dahomey (which corresponds to present-day Benin).
Born under the impetus of actress (who works here as producer) Maria Bello , the feature film is worn by Viola Davis , Lashana Lynch , John Boyega , as well as by a young actress who has not finished talk about her: Thuso Mbedu .
Born in Pietermaritzburg, capital of the province of KwaZulu-Natal in South Africa, the actress is of Zulu ancestry by her mother and Xhosa and Sotho by her father. She was raised by her grandmother after her mother died when she was four years old. While she is destined to become a dermatologist, she is passionate about comedy which she discovers by taking the theater option in second. She trained in dramatic arts at the University of the Witwatersrand in 2013.
The following year she landed her first role in the soap opera Isibaya , very popular in South Africa. She continues her way to television with Scandal! and Is'Thunzi , a program inspired by testimonials from teenage girls. This series offers her two successive nominations (in 2017 and 2018) at the International Emmys and allows her to be spotted beyond the borders of her native country.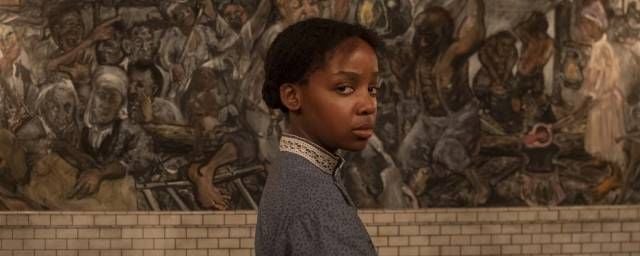 Thuso Mbedu dans "The Underground Railroad".
We find her in 2018 in the Liberty mini-series . This co-production between South Africa and several European countries allows him to rub shoulders with  Connie Nielsen and Sofie Gråbøl , the heroine of The Killing . After the English series Shuga , she crossed the Atlantic and landed the lead role in Oscar winner Barry Jenkins ' series , The Underground Railroad . She is Cora, a runaway slave in 19th century America.
The Woman King allows her to continue her ascent with the role of Nawi, an orphan who is training to become a formidable warrior: "she is a determined, stubborn young girl, who has always aspired to have a better life than her existence. current" . The name of his character is a tribute to one of the last known Agojié, who died in 1979.........
Thuso Mbedu was unaware of the existence of these warriors before joining the project. She is delighted to participate in this epic which proposes to resurrect this neglected part of African history: "I think that's really there, the power of what we do, to take these stories out of the ground and say: ' Wait, you forgot that part.' And that's also important, we need to know more."