After "Beauty and the Beast", "The Lion King" or even "Dumbo", the Disney studios present their new live action adaptation: "Pinocchio". A film directed by Robert Zemeckis and played, among others, by Tom Hanks. On Disney+.
In the collective imagination, Pinocchio is one of the most famous characters in children's stories. In the cinema, the story of Carlo Collodi has been adapted countless times. The best-known version is probably Disney's, released in 1940. At that time,  Pinocchio was only the second film from animation studios, three years after the triumph of Snow White and the Seven Dwarfs .
Eighty-two years later, the puppet who dreams of becoming a little boy returns under the direction of Robert Zemeckis , the man behind  Back to the Future and Forrest Gump . The director finds, for the fourth time, Tom Hanks . The actor lends his features to Geppetto, the father of the puppet.
FROM THE AGE OF 8
The story of this new film remains essentially the same as that of the 1940 feature film. This remake reproduces the costumes of the characters identically and even introduces some musical sequences as in the original. A few small details differ, such as the arrival of new protagonists to expand the plot and modified scenes will certainly catch the eye of the most expert.
Robert Zemeckis is a regular in special effects. He particularly likes to mix animation with very real actors. This was the case for  Who Framed Roger Rabbit? and he experiments with this technique again in Pinocchio . Visually, the film throws. Some protagonists, like the Grand-Coquin fox, surprise with their realism.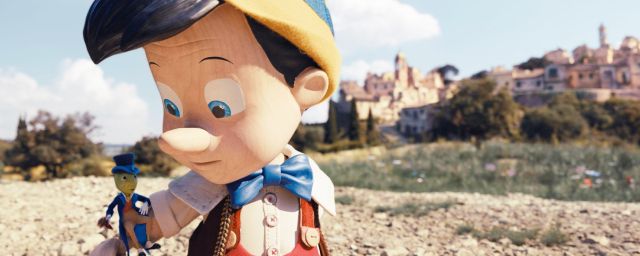 Pinocchio et Jiminy Cricket.
What they will like:
First, the hero! Pinocchio is an endearing character, happy, even if a little naive. No doubt the little ones will appreciate it, just like its traveling companion, Jiminy Cricket, a cricket dressed in a costume.
Robert Zemeckis' film is full of colors and plans that make you dream. The magic of special effects makes it possible to create a world between imagination and reality. In a few minutes, Pinocchio makes him leave the mainland and allows a real escape.
The emotion instilled by Tom Hanks. This new version can be an opportunity for the youngest to discover this great actor in a role accessible to all. A nice introduction before continuing to other films.
What may worry them:
During his journey, Pinocchio meets some disturbing characters, such as the owner of a villainous circus, a strange coachman and a very impressive sea monster. Don't panic: the puppet always comes out at the right time.
During a sequence, the Coachman, played by actor Luke Evans, mistreats donkeys. Violence against animals is not a subject tackled in depth, but this scene can sensitize the youngest moviegoers on the question of animal welfare.
As in the original film, this new version features a little boy who turns into a donkey. The sequence is strange, a little frightening.
Pinocchio is available on Disney+.