We recommend the excellent animated film "Turbo", the story of a snail who dreams of going very fast and who is going to take part in… a car race! Available on Netflix.
A snail participating in a car race? It's possible ! To discover this funny idea in pictures, you have to quickly watch  Turbo , an excellent animated film from DreamWorks studios carried by the voices of  Ryan Reynolds (in VO) and  Laurent Lafitte (in VF). A little gem, available on the Netflix platform, to enjoy with the family.
FROM 6 YEARS OLD
Turbo, released in French cinemas in October 2013, tells the story of a snail who has only one dream in mind: to be incredibly fast! His obsession with speed has made him somewhat unpopular among his people, where slowness and caution are required. But it is out of the question for him to comply.
Then a strange accident occurs that suddenly gives Turbo the power to rush at full speed. He then embarks on an extraordinary adventure to fulfill his unlikely destiny: to race against the greatest motor racing champion. With the help of a team of snails as cunning as they are stylish, the ultimate underdog Turbo will put all his heart – and shell – into proving that no dream is too big, no dreamer is too small......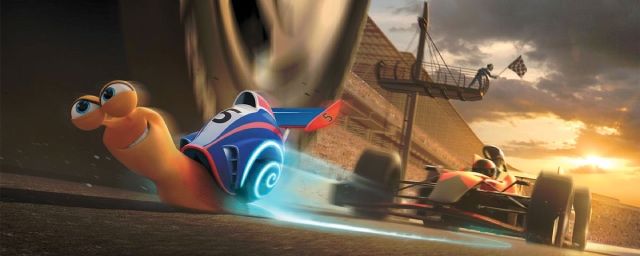 What they will like:
The humor and general good humor that emanates from this fast-paced film.
A gallery of frankly funny and endearing characters.
The message, never delivered in a silly way, that it is allowed to have all dreams and to do everything to achieve them.
The quality of the animation, frankly bluffing, especially for these incredible racing scenes which will almost give you the impression, in your sofa, of being fully on the asphalt.
Suspense ! Frankly, impossible (for young and old alike) not to get caught up in the incredible final race. It is certain, you will be passionate about the ultimate test, rich in twists and turns. Will the Turbo Snail cross the finish line first?
To know :
The number of characters in Turbo, including extras, amounts to almost… 300,000!
The organization of the Indy 500, a famous American car race which is represented in Turbo, opened the doors of its Indianapolis circuit to the film crew. Director  David Soren recalls:  "Our team of graphic designers and illustrators took tens of thousands of pictures of every square inch of the infrastructure because we needed to know the quality of the track and the details of the pits, the equipment and garages."
"Turbo": behind the scenes of filming