In early 2009, shortly before taking office as head of the United States, Barack Obama revealed who his two favorite superheroes were. Is it more Marvel or DC?
It is common knowledge that  Barack Obama is a man fond of culture. The former president of the United States does not hide it, revealing each year the list of his favorite films, series, books and musical pieces. But Obama is also a bit of a geek at heart, since he is a fan of superheroic universes.
At the beginning of 2009, shortly before taking up his official duties at the White House, Barack Obama had revealed, during a visit to an elementary school, which superheroes he liked the most. Verdict? For him, nothing can surpass  Spider-Man and Batman , the iconic characters of Marvel and DC Comics.
In the wake of this announcement made in a school in Washington… DC (!), and a few days before his investiture to the supreme post, Barack Obama will have the pleasure of appearing in the pages of a special issue of the comic-book Amazing Spider-Man . The opportunity for Marvel to thank this illustrious fan, who will therefore have had the privilege of "meeting" the spider-man he admires so much.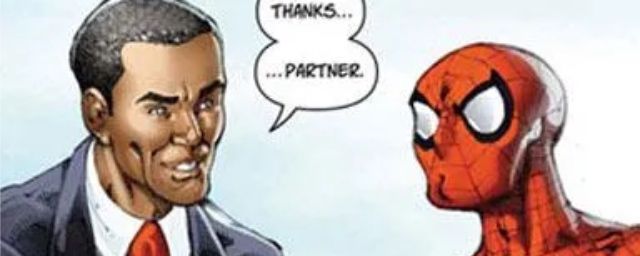 Obama appears in the second story of Amazing Spider-Man issue #583 , published January 14, 2009. A story titled Spidey Meets the President! which sees the villainous Chameleon planning an attack on the American on the day of his inauguration.
Barack Obama: what are the two superheroic series he is a fan of?
Barack Obama and John McCain, in their campaigns for the 2008 presidential election, played the super-heroic card to the hilt. The publishing house Atomic Comics had indeed published comic biographies of the two candidates.
Finally, note that Barack Obama is not the only American president to have been featured in a comic book. Richard Nixon had already rubbed shoulders with Spider-Man, while John Fitzgerald Kennedy and Bill Clinton had made a foray into a Superman adventure.