Created by Stan Lee and Jack Kirby in May 1962, the superhero Hulk quickly became very popular, especially among American students. Did you know that a Rock song, validated by Marvel, was created in 1969 on the character? Listen to her !
Created by  Stan Lee and  Jack Kirby in May 1962, the Hulk later came to bring down his big, angry, vengeful fists on the small and big screen. After six comic issues, the character began to appear occasionally in Fantastic Four (mis)adventures. Until Lee realizes the growing popularity of this superhero.
In his book  Comic Book Nation: The Transformation of Youth Culture in America , author Bradford W. Wright discusses a 1965 poll conducted by Esquire magazine, in which "radicalized American college students ranked Spider-Man and Hulk alongside Che Guevara and Bob Dylan among their favorite revolutionary icons".
A curious mixture at first glance, except to remember that comic book characters have always been able to capture the political air of their time. And an interest to which Marvel was obviously not insensitive: Hulk will thus be an important figure in the Tales to Astonish series , which will be published until March 1968, before he is entitled to his own comic book the following month.
What is quite surprising is that the creators of the character, and therefore Marvel, gave their blessing in 1969 for a Rock song dedicated to the superhero. Her name ? Nobody Loves The Hulk ! Written by Rosalind Rogoff, the song was recorded by a band called The Traits from New Jersey.
The publicity of this 45 T was very limited, since only made on the back of the covers of Marvel comics. There she is :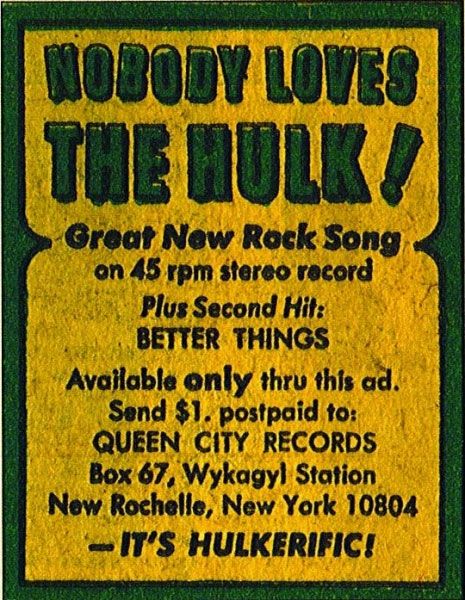 Pressed in 2000 copies, the vinyl was not really as overwhelming a success as its model of inspiration. "I sold a few hundred, and gave a package to the fire station as Christmas gifts. And I sold the rest to a store specializing in collectibles" told Rosalind Rogoff in 2014 .
If she admitted to being embarrassed by this song and no longer wanting to be associated with it, the result does not however prove to be shameful. Judge for yourself below!