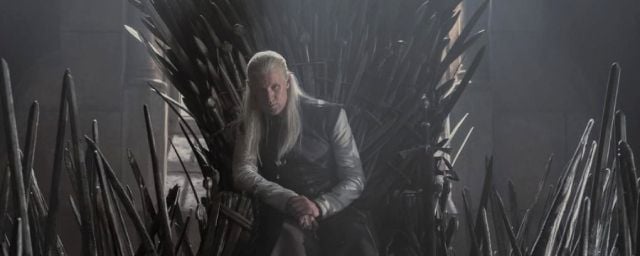 If he is perfect in the skin of Daemon Targaryen in House of the Dragon, Matt Smith was not really ready to join the Game of Thrones universe originally. He happily accepted despite the grueling filming.
Many actors have been injured on the set of  Game of Thrones over the eight seasons. And the cast of its spin-  off series House of the Dragon was no exception either. It is not  Matt Smith who will say the opposite.
The interpreter of Prince Daemon Targaryen had to perform many stunts since he is not only a knight, Lord Commander of the Watchtower of Port-Réal and an excellent dragon rider. The shooting was therefore intense for the British actor who confided in Hollywood Reporter :
"There were a lot of stunts, and it was a challenge over quite a long period of time. Filming took 10 months. So physically it's exhausting. But there are also these big scenes where you're sitting around the table which are quite difficult because there are so many characters to film. It takes days and you have to stay sharp and focused.".......
And what had to happen happened, Matt Smith injured himself on the set of House of the Dragon: "It was a stunt where I was wearing a helm in Portugal. It hit me on the disk of the neck. had a terrible pain in the neck – literally, metaphorically ("pain in the neck" means "pain in the neck" in English) and physically."
Contrary to what one might think, it is not a minor injury since more than six months after the end of filming the actor still has after-effects of the injury: "In fact, I go to the physio there, right after the interview, to work on the injury."
A ROLE THAT MATT SMITH DID NOT WANT
Like his colleagues before him, Matt Smith therefore had an accident at work which he could not escape. And yet, he knew very well that the Game of Thrones experience is complicated since he hesitated for a long time before accepting the role of Deamon, as he revealed to The Hollywood Reporter:
"My agent called me and I was like, 'Oh, I don't know. It's pretty hard, isn't it? It's hard to follow and then it's deja vu.' But then they came back and I went for a tryout. And that's it."
But what convinced him was the presence of  Paddy Considine in the casting: "He had already been offered the role of King Viserys I, and I was a great admirer of Paddy and had always wanted to work with him. . So that was a real plus."
Of course, the character of Deamon Targaryen interested him for several reasons: "I love the relationship with his brother. I like his ambiguity . There is a ruthless personality. Although in many ways he is genuine and thinks he is acting within his rights."
Difficult to see another actor in place of Matt Smith to embody Daemon Targaryen. But the actor will have to prepare to perform other stunts in the future since the House of the Dragon series has already been renewed for a second season!