Almost thirty years after the release of the first film, "Hocus Pocus 2" arrives on Netflix. An adventure for the whole family, but what exactly can you expect from it?
The Disney firm knows many underrated films. Most have not had the success hoped for at the time of their release. Hocus Pocus is one of them. It is over the years that Kenny Ortega's horror comedy has managed to make a small reputation. So much so that a sequel, long awaited by fans, arrives twenty-nine years later.
Hocus Pocus 2  marks the return of the Sanderson sisters, Winifred, Sarah and Mary. Driven out of Salem, the three witches are resurrected with the help of two teenage magicians. The trio is ready for anything, and especially for the worst, so as not to disappear at sunrise.
FROM 10 YEARS OLD
This film by Anne Fletcher stars Bette Midler ,  Sarah Jessica Parker and  Kathy Najimy as witches. All three give their all in this adventure that mixes comedy, horror and fantasy elements........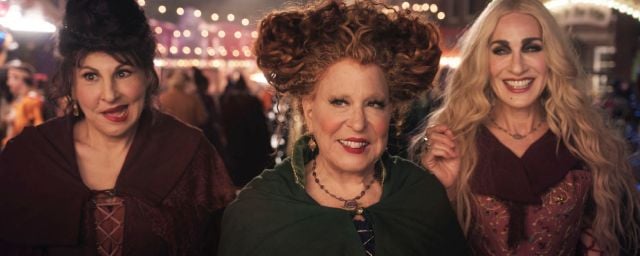 Kathy Najimy, Bette Midler and Sarah Jessica Parker in "Hocus Pocus 2".
What they will like:
Fear not, in Hocus Pocus, the witches aren't nearly as terrifying as in the tales. On the contrary, they are funny, surprising and sometimes touching. Each has its own personality: Winifred is the eldest, the most strict, Sarah is the most gullible, as for Mary, she is not the smartest. Their characters work wonderfully thanks to the talent of the three actresses who play them.
Hocus Pocus 2 offers a real mix of genres. There is action, laughter, but also music! In the film, the witches make their voices heard in two frenzied and smile-inducing revivals. Special mention for the song from their first scene, a cover of a hit by Elton John.
Halloween enthusiasts should love this movie. The whole atmosphere of this party is highlighted, from the decorations to the costumes. This is the film to watch with your group of friends or your family to spend a successful evening.
What may worry them:
Who says Halloween movie also says a movie with some scares, but Hocus Pocus 2 is accessible for the whole family. Only the appearance of witches can make the little ones tremble, but don't panic, their humor is there to lighten the atmosphere!