Focus on these SF films, such as "The Day After", "Don't Look Up", "Waterworld" or even "Blade Runner", which have warned us of the climatic danger that awaits.
Time passes and climate change intensifies a little more. An observation that challenges and must push each of us, whatever their level, to act.
In order to raise awareness in our own way about the climate danger, focus on science fiction films that have warned us, sometimes quite rightly, of the danger that awaits us. From  Roland Emmerich  's Day After Day to  Ridley Scott  's Blade Runner  via Don't Look Up ,  Waterworld  and Mad Max: Fury Road , these works have often been right and remind us that we must quickly mobilize for good . our planet and future generations.
The day after
The disaster film The Day After , released in theaters in 2004, tells what would happen if the Gulf Stream stopped: storms, floods, transformation of water into pack ice… A Gulf Stream from which we have just to learn that it was in danger of collapsing sooner than expected. Damn prescient from  Roland Emmerich …
water world
Following an ecological catastrophe, the Earth is covered by the oceans. The few survivors live on artificial atolls, dreaming of a mythical land covered with vast forests and deep valleys. Such is the harrowing pitch of the SF film Waterworld , a sort of Mad Max  on the high seas led by Kevin Costner . The action takes place in the distant future, but the rise in water levels is a very current phenomenon… According to the IPCC, the sea level could rise by up to one meter by 2100.
Mad Max: Fury Road
Released in theaters in 2015,  George Miller  's Mad Max: Fury Road  is an anticipation film where the Earth, in a post-apocalyptic future, is the victim of a water shortage giving rise to a violent gang war. Desert lands, vital liquid that is becoming scarce…: already a reality in Africa, where populations are fighting for access to water, as evidenced by the documentary Walking on Water  by Aïssa Maïga presented at the last Cannes Film Festival and in theaters on November 10.
Dont Look Up: Cosmic Denial
Released on Netflix late last year, the comedy  Don't Look Up: Cosmic Denial tells the story of two astronomers who embark on a gigantic media tour to warn humanity that a comet is heading towards the Earth and is about to destroy it. Led by a four-star cast including Leonardo DiCaprio , Jennifer Lawrence ,  Meryl Streep and Cate Blanchett , this allegory of climate change and the blindness of the powerful hit the mark. As funny as it is scary.....
Interstellar
Interstellar , the cult film by Christopher Nolan , shows us a parched Earth, swept by sandstorms, which has become uninhabitable for humans. Matthew McConaughey  will then go into space to find a place where the population could find refuge. Our future if Man does not take enough care of the planet? Hurry up…
Judge Dredd
Drought, massive desertification, devastated ecosystem… The planet Earth of the year 2139 depicted in Judge Dredd , the futuristic thriller carried by Sylvester Stallone , is not very rosy. A not so improbable scenario: according to the IPCC,  global warming could have increased by 1.5 degrees around 2030, ten years earlier than expected…
Green Sun
Green Sun , the cult film by Richard Fleischer  released in theaters in 1974, plunges us into the heart of a society where men have exhausted natural resources, global warming having caused the disappearance of fauna and flora. When does the action of this visionary work carried out by Charlton Heston  take place? In 2022.
blade runner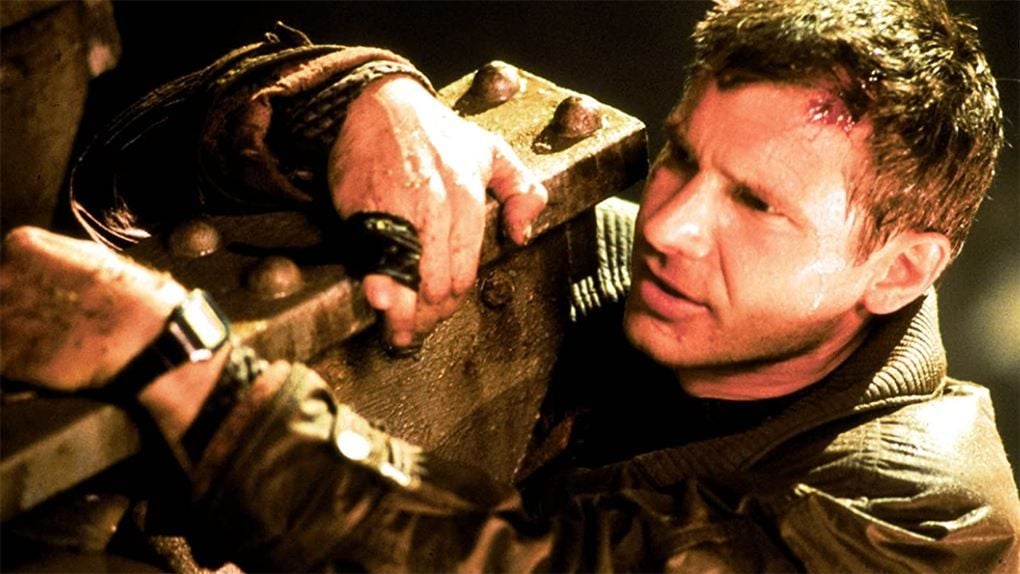 Hello
The surface of the globe is scorched by the sun's rays, the land is dried up and food is scarce. Two types of survivors oppose each other: prey and predators. Such is the unwelcome program of the German feature film Hell , which paints the portrait of an Earth in the aftermath of brutal global warming. In production, we find a man always very appropriate when it comes to imagining an uncertain and terrifying future: Roland Emmerich , the director of The Day After  !