After the TV movie "For the honor of a son", which caused a lot of talk a few weeks ago, Stéphane Bern will soon be back on France 3 with "Bellefond", a new police TV movie which will be broadcast on October 18.
After his first remarkable steps in comedy thanks to  Meurtres en Lorraine and the TV movie  Pour l'honneur d'un fils , recently broadcast on France 3,  Stéphane Bern will soon be making a comeback in a fiction with  Bellefond , a new police unit which will be offered next October 18 on La Trois.
This time he will play Antoine Bellefond, a prosecutor who does not spare the criminals he meets on his way until one of them, innocent, commits suicide in full court. Totally shocked by this event, Bellefond decided to put his career on hold. But his niece, whom he hasn't seen in years, calls for help when his father, his brother-in-law, has been arrested for murder and refuses to defend himself when she is convinced of his innocence.
Bellefond, also a professor of criminal law, returns to his native village, accompanied by three of his best students to elucidate this mystery, reconnect with his past and reconcile with his family.
In this new detective television film set against a backdrop of family drama, Stéphane Bern will be accompanied by actress  Alexandra Vandernoot ( Here it all begins ) who plays the role of Constance Ajard, Bellefond's sister. But also the actress  Anne Caillon ( Tomorrow belongs to us ) who embodies the character of Audrey Passereau and  Mélanie Robert ( Un si grand soleil ) in the role of Noémie Ajard, the hero's niece.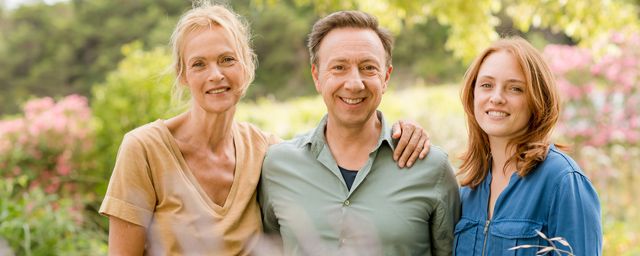 JEAN-PHILIPPE BALTEL – BIG BAND STORY – FTV
Alexandra Vandernoot, Stéphane Bern and Mélanie Robert.
Alongside them, viewers will also find  Arnaud Binard ( Little Angel ) who lends his features to Christophe Ajard, and  Jean-Marie Winling ( Irreductible ) who plays the role of Jacques Bellefond. To conclude this casting, the three students who accompany the prosecutor Bellefond are played by  Wendy Nieto (Camille),  Julia Oberlinkels (Farima) and  Oscar Berthe (Kevin).
The Bellefond TV movie acts as a pilot for a new series for France 3. And, according to our information, a second episode is already being written.